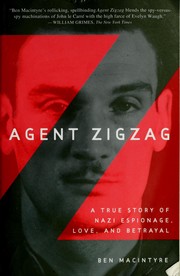 940.54 M152a 2012
Agent zigzag: a true story of Nazi espionage, love, and betrayal
New York : Harmony Books, 2007.
364 p. : illus. : 20 cm.
Eddie Chapman was a charming criminal, a con man, and a philanderer. He was also one of the most remarkable double agents Britain has ever produced. In 1941, after training as a German spy in occupied France, Chapman was parachuted into Britain with orders to blow up an airplane factory. Instead, he contacted MI5, the British Secret Service. For the next four years, he worked as a double agent, a British spy at the heart of the German Secret Service. Crisscrossing Europe under different names, weaving plans, spreading disinformation, and miraculously keeping his stories straight under intense interrogation, he even managed to gain some profit and seduce beautiful women along the way.
Lost
Regular
This item is missing
| | |
| --- | --- |
| ISBN: | |
| LC Call No: | D810.S8C385 |
| Dewey Class No: | 940.54/M152a/2012 |
| Author: | |
| Title: | Agent zigzag: a true story of Nazi espionage, love, and betrayal. |
| Edition: | 1st. |
| Publisher: | New York : Harmony Books, 2007. |
| Physical: | 364 p. : illus. : 20 cm. |
| Notes: | Includes bibliographical references and index. |
| Summary: | Eddie Chapman was a charming criminal, a con man, and a philanderer. He was also one of the most remarkable double agents Britain has ever produced. In 1941, after training as a German spy in occupied France, Chapman was parachuted into Britain with orders to blow up an airplane factory. Instead, he contacted MI5, the British Secret Service. For the next four years, he worked as a double agent, a British spy at the heart of the German Secret Service. Crisscrossing Europe under different names, weaving plans, spreading disinformation, and miraculously keeping his stories straight under intense interrogation, he even managed to gain some profit and seduce beautiful women along the way. |
| Subject: | CHAPMAN, EDDIE. |
| Subject: | |
| Subject: | |
| Subject: | |
| Subject: | |
| Subject: | |
| Subject: | |
| Link: | |
| Link: | |
| Field | Ind | Subfield | Data |
| --- | --- | --- | --- |
| 001 Control No | | | 9350 |
| 005 LastTransaction | | | 20190501161519.0 |
| 008 Data Elements | | | 120822 |
| 020 ISBN | __ | $a ISBN | 978-0-307-35341-2 |
| 035 System Ctrl No | | $a System control number | 12489 |
| 050 LC Call No | __ | $a Classification number | D810.S8C385 |
| 082 Dewey Class No | | $a Classification number | 940.54/M152a/2012 |
| 100 ME:PersonalName | 1_ | $a Personal name | Macintyre, Ben. |
| 245 Title | 10 | $a Title | Agent zigzag: a true story of Nazi espionage, love, and betrayal. |
| 250 Edition | __ | $a Edition statement | 1st. |
| 260 PublicationInfo | __ | $a Place of publication, dist. | New York : |
| | | $b Name of publisher, dist, etc | Harmony Books, |
| | | $c Date of publication, dist, etc | 2007. |
| 300 Physical Desc | __ | $a Extent | 364 p. : illus. : 20 cm. |
| 500 General Note | __ | $a General note | Includes bibliographical references and index. |
| 520 Summary | __ | $a Summary, etc. note | Eddie Chapman was a charming criminal, a con man, and a philanderer. He was also one of the most remarkable double agents Britain has ever produced. In 1941, after training as a German spy in occupied France, Chapman was parachuted into Britain with orders to blow up an airplane factory. Instead, he contacted MI5, the British Secret Service. For the next four years, he worked as a double agent, a British spy at the heart of the German Secret Service. Crisscrossing Europe under different names, weaving plans, spreading disinformation, and miraculously keeping his stories straight under intense interrogation, he even managed to gain some profit and seduce beautiful women along the way. |
| 541 Acq Source Note | __ | $d Date of acquisition | 2012/08/22. |
| 600 Subj:Name | 1_ | $a Personal name | CHAPMAN, EDDIE. |
| 650 Subj:Topic | __ | $a Topical term | World War, 1939-1945--Secret service--Germany |
| 650 Subj:Topic | __ | $a Topical term | World War, 1939-1945--Secret service--Great Britain |
| 650 Subj:Topic | __ | $a Topical term | Spies--Great Britain--Biography |
| 650 Subj:Topic | __ | $a Topical term | Spies--Germany--Biography |
| 650 Subj:Topic | __ | $a Topical term | Espionage--History--Germany--20th century |
| 650 Subj:Topic | __ | $a Topical term | Espionage--History--Great Britain--20th century. |
| 852 Holdings | __ | $a Location | IN |
| | | $b Sublocation or collection | Main |
| | | $c Shelving location | 20120822124741.0n |
| | | $g Non-coded location qualifier | 1 |
| | | $h Classification part | 940.54 M152a 2012 |
| | | $i Item part | M152a/2012 |
| | | $k Call prefix | General |
| | | $o | 113404 |
| | | $p Barcode | 18854 |
| | | $t Copy number | 1 |
| | | $u | 2 |
| | | $5 | Y |
| | | $6 Linkage | 20140625 |
| | | $9 Cost | $15.00 |
| | | $a Location | CAA |
| 856 ElectronicLocat | 4 | $3 Materials specified | Cover image |
| | | $u Uniform Resource Identifier | https://covers.openlibrary.org/b/id/7071416-M.jpg |
| 856 ElectronicLocat | 4 | $3 Materials specified | Author photo |
| | | $u Uniform Resource Identifier | https://covers.openlibrary.org/a/olid/OL381435A-M.jpg |