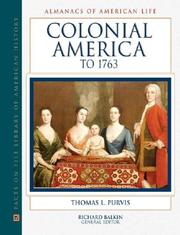 973 F142a #1 2009
Colonial America to 1763
New York, NY : Facts on file, inc, 1999.
381 p. : illus.; 28 cm.
Portrays American history before the United States was established. Details their everyday lives, from the foods they ate to the places where they worshiped to the types of jobs they performed. Provides statistical tables, charts, maps, photographs, and illustrations.
Available
Regular
1 copy available at Collegedale Academy
| | |
| --- | --- |
| ISBN: | |
| LC Call No: | E188.P86 |
| Dewey Class No: | 973/F142a/#1/2009 R |
| Author: | |
| Title: | |
| Publisher: | New York, NY : Facts on file, inc, 1999. |
| Physical: | 381 p. : illus.; 28 cm. |
| Series: | |
| Notes: | Includes bibliographical references and index. |
| Summary: | Portrays American history before the United States was established. Details their everyday lives, from the foods they ate to the places where they worshiped to the types of jobs they performed. Provides statistical tables, charts, maps, photographs, and illustrations. |
| Subject: | |
| Subject: | |
| Subject: | United States-History-Colonial period, ca. 1600-1775-Statistics. |
| Subject: | |
| Link: | |
| Field | Ind | Subfield | Data |
| --- | --- | --- | --- |
| 001 Control No | | | 7894 |
| 005 LastTransaction | | | 20181110170659.0 |
| 008 Data Elements | | | 091030 |
| 020 ISBN | __ | $a ISBN | 978-0-8160-2527-5 |
| 035 System Ctrl No | | $a System control number | 10946 |
| 050 LC Call No | __ | $a Classification number | E188.P86 |
| 082 Dewey Class No | | $a Classification number | 973/F142a/#1/2009 |
| | | $c | R |
| 100 ME:PersonalName | 1_ | $a Personal name | Purvis, Thomas L., editor. |
| 245 Title | 10 | $a Title | Colonial America to 1763. |
| 260 PublicationInfo | __ | $a Place of publication, dist. | New York, NY : |
| | | $b Name of publisher, dist, etc | Facts on file, inc, |
| | | $c Date of publication, dist, etc | 1999. |
| 300 Physical Desc | __ | $a Extent | 381 p. : illus.; 28 cm. |
| 440 Series Title | _0 | $a Title | Almanacs of american life |
| 500 General Note | __ | $a General note | Includes bibliographical references and index. |
| 520 Summary | __ | $a Summary, etc. note | Portrays American history before the United States was established. Details their everyday lives, from the foods they ate to the places where they worshiped to the types of jobs they performed. Provides statistical tables, charts, maps, photographs, and illustrations. |
| 541 Acq Source Note | __ | $d Date of acquisition | 2009/10/30. |
| 650 Subj:Topic | __ | $a Topical term | United States-History-Colonial period, ca. 1600-1775 |
| 650 Subj:Topic | __ | $a Topical term | United States-Social life and customs-To 1775. |
| 650 Subj:Topic | __ | $a Topical term | United States-History-Colonial period, ca. 1600-1775-Statistics. |
| 650 Subj:Topic | __ | $a Topical term | United States-Social life and customs-To 1775-Statistics. |
| 852 Holdings | __ | $a Location | IN |
| | | $b Sublocation or collection | Main |
| | | $c Shelving location | 20091030132108.0n |
| | | $h Classification part | 973 F142a #1 2009 |
| | | $i Item part | F142a/#1/2009 |
| | | $k Call prefix | Reference |
| | | $p Barcode | 17015 |
| | | $r | 1 |
| | | $t Copy number | 1 |
| | | $5 | Y |
| | | $6 Linkage | 20140625 |
| | | $9 Cost | $85.00 |
| | | $a Location | CAA |
| 856 ElectronicLocat | 4 | $3 Materials specified | Cover image |
| | | $u Uniform Resource Identifier | https://covers.openlibrary.org/b/id/2650035-M.jpg |