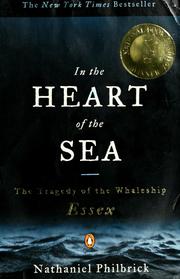 910.916 P545i 2007
In the heart of the sea: the tragedy of the whaleship Essex
New York : Penguin Books, 2000.
301 p. : ill. ; 20 cm.
Recounts the true story of the whaling ship Essex with a crew of twenty that was rammed and sunk by an enraged sperm whale in 1819. Eight crew members survived because of extraordinary measures during their three months adrift.
Available
Regular
1 copy available at Collegedale Academy
| | |
| --- | --- |
| ISBN: | |
| LC Call No: | G530.E76 |
| Dewey Class No: | 910.916/P545i/2007 |
| Author: | |
| Title: | In the heart of the sea: the tragedy of the whaleship Essex. |
| Publisher: | New York : Penguin Books, 2000. |
| Physical: | 301 p. : ill. ; 20 cm. |
| Notes: | Include bibliographical references and index. |
| Summary: | Recounts the true story of the whaling ship Essex with a crew of twenty that was rammed and sunk by an enraged sperm whale in 1819. Eight crew members survived because of extraordinary measures during their three months adrift. |
| Subject: | |
| Subject: | |
| Link: | |
| Link: | |
| Field | Ind | Subfield | Data |
| --- | --- | --- | --- |
| 001 Control No | | | 6739 |
| 005 LastTransaction | | | 20170908000110.0 |
| 008 Data Elements | | | 070410 |
| 020 ISBN | __ | $a ISBN | 978-0-14-100182-1 |
| 035 System Ctrl No | | $a System control number | 9424 |
| 050 LC Call No | __ | $a Classification number | G530.E76 |
| 082 Dewey Class No | | $a Classification number | 910.916/P545i/2007 |
| 100 ME:PersonalName | 1_ | $a Personal name | Philbrick, Nathaniel. |
| 245 Title | 10 | $a Title | In the heart of the sea: the tragedy of the whaleship Essex. |
| 260 PublicationInfo | __ | $a Place of publication, dist. | New York : |
| | | $b Name of publisher, dist, etc | Penguin Books, |
| | | $c Date of publication, dist, etc | 2000. |
| 300 Physical Desc | __ | $a Extent | 301 p. : ill. ; 20 cm. |
| 500 General Note | __ | $a General note | Include bibliographical references and index. |
| 520 Summary | __ | $a Summary, etc. note | Recounts the true story of the whaling ship Essex with a crew of twenty that was rammed and sunk by an enraged sperm whale in 1819. Eight crew members survived because of extraordinary measures during their three months adrift. |
| 541 Acq Source Note | __ | $d Date of acquisition | 2007/04/10. |
| 650 Subj:Topic | __ | $a Topical term | Essex (whaleship) |
| 650 Subj:Topic | __ | $a Topical term | Shipwrecks--Pacific Ocean. |
| 852 Holdings | __ | $a Location | IN |
| | | $b Sublocation or collection | Main |
| | | $c Shelving location | 20081215133646.0n |
| | | $f Coded location qualifier | 1 |
| | | $g Non-coded location qualifier | 1 |
| | | $h Classification part | 910.916 P545i 2007 |
| | | $i Item part | P545i/2007 |
| | | $k Call prefix | General |
| | | $o | 113164 |
| | | $p Barcode | 15833 |
| | | $t Copy number | 1 |
| | | $w | 1 |
| | | $5 | Y |
| | | $6 Linkage | 20140625 |
| | | $9 Cost | $15.00 |
| | | $a Location | CAA |
| 856 ElectronicLocat | 4 | $3 Materials specified | Cover image |
| | | $u Uniform Resource Identifier | https://covers.openlibrary.org/b/id/6517698-M.jpg |
| 856 ElectronicLocat | 4 | $3 Materials specified | Author photo |
| | | $u Uniform Resource Identifier | https://covers.openlibrary.org/a/olid/OL67276A-M.jpg |