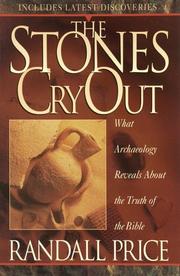 220.9 P946s 2011
The stones cry out: what archaeology reveals about the truth of the Bible
Eugene, OR : Harvest House Publishers, 1997.
437 p. : illus. : 20 cm.
Discover what new archaeological finds have to tell us about Israel's journey to the Promised Land, the fall of Jericho's walls, the Ark of the Covenant, the kings and prophets of Israel, the Assyrian and Babylonian invasions, the Dead Sea Scrolls, the time and people of Jesus, and more. Includes testimonies and interviews from leading archaeologists and exciting pictures featuring the lastest finds made in the lands of the Bible.
Available
Regular
1 copy available at Collegedale Academy
| | |
| --- | --- |
| ISBN: | |
| LC Call No: | BS621.P75 |
| Dewey Class No: | 220.9/P946s/2011 |
| Author: | |
| Title: | The stones cry out: what archaeology reveals about the truth of the Bible. |
| Publisher: | Eugene, OR : Harvest House Publishers, 1997. |
| Physical: | 437 p. : illus. : 20 cm. |
| Notes: | Includes bibliographical references and index. |
| Summary: | Discover what new archaeological finds have to tell us about Israel's journey to the Promised Land, the fall of Jericho's walls, the Ark of the Covenant, the kings and prophets of Israel, the Assyrian and Babylonian invasions, the Dead Sea Scrolls, the time and people of Jesus, and more. Includes testimonies and interviews from leading archaeologists and exciting pictures featuring the lastest finds made in the lands of the Bible. |
| Subject: | |
| Subject: | |
| Link: | |
| Field | Ind | Subfield | Data |
| --- | --- | --- | --- |
| 001 Control No | | | 8387 |
| 005 LastTransaction | | | 20190524114259.0 |
| 008 Data Elements | | | 110131 |
| 020 ISBN | __ | $a ISBN | 978-1-56507-640-2 |
| 035 System Ctrl No | | $a System control number | 11492 |
| 050 LC Call No | __ | $a Classification number | BS621.P75 |
| 082 Dewey Class No | | $a Classification number | 220.9/P946s/2011 |
| 100 ME:PersonalName | 1_ | $a Personal name | Price, Randall. |
| 245 Title | 14 | $a Title | The stones cry out: what archaeology reveals about the truth of the Bible. |
| 260 PublicationInfo | __ | $a Place of publication, dist. | Eugene, OR : |
| | | $b Name of publisher, dist, etc | Harvest House Publishers, |
| | | $c Date of publication, dist, etc | 1997. |
| 300 Physical Desc | __ | $a Extent | 437 p. : illus. : 20 cm. |
| 500 General Note | __ | $a General note | Includes bibliographical references and index. |
| 520 Summary | __ | $a Summary, etc. note | Discover what new archaeological finds have to tell us about Israel's journey to the Promised Land, the fall of Jericho's walls, the Ark of the Covenant, the kings and prophets of Israel, the Assyrian and Babylonian invasions, the Dead Sea Scrolls, the time and people of Jesus, and more. Includes testimonies and interviews from leading archaeologists and exciting pictures featuring the lastest finds made in the lands of the Bible. |
| 541 Acq Source Note | __ | $d Date of acquisition | 2011/01/31. |
| 650 Subj:Topic | __ | $a Topical term | Bible--Antiquities |
| 650 Subj:Topic | __ | $a Topical term | Bible--Evidences, authority, etc. |
| 852 Holdings | __ | $a Location | IN |
| | | $b Sublocation or collection | Main |
| | | $c Shelving location | 20110131115534.0n |
| | | $h Classification part | 220.9 P946s 2011 |
| | | $i Item part | P946s/2011 |
| | | $k Call prefix | General |
| | | $p Barcode | 17749 |
| | | $t Copy number | 1 |
| | | $5 | Y |
| | | $6 Linkage | 20140625 |
| | | $9 Cost | $16.00 |
| | | $a Location | CAA |
| 856 ElectronicLocat | 4 | $3 Materials specified | Cover image |
| | | $u Uniform Resource Identifier | https://covers.openlibrary.org/b/id/802673-M.jpg |