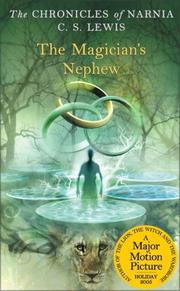 PB L673n #1 c.2
The magician's nephew
New York : Harper Trophy Publishers, 1983.
221 p. : 18 cm. 18 cm.
When Digory and Polly try to return the wicked witch Jadis to her own world, the magic gets mixed up and they all land in Narnia where they witness Aslan blessing the animals with human speech.
Lost
Paperback books
This item is missing
| | |
| --- | --- |
| ISBN: | |
| Dewey Class No: | L673n/#1 PB |
| Author: | |
| Title: | |
| Publisher: | New York : Harper Trophy Publishers, 1983. |
| Physical: | 221 p. : 18 cm. 18 cm. |
| Series: | |
| Notes: | Fiction--Series. |
| Summary: | When Digory and Polly try to return the wicked witch Jadis to her own world, the magic gets mixed up and they all land in Narnia where they witness Aslan blessing the animals with human speech. |
| Subject: | |
| Subject: | |
| Link: | |
| Link: | |
| Field | Ind | Subfield | Data |
| --- | --- | --- | --- |
| 001 Control No | | | 3891 |
| 005 LastTransaction | | | 20160909122001.0 |
| 008 Data Elements | | | 010201s1983 nyu 001 0 eng d |
| 020 ISBN | | $a ISBN | 978-0-06-447110-7 |
| 035 System Ctrl No | | $a System control number | 5997 |
| 082 Dewey Class No | | $a Classification number | L673n/#1 |
| | | $c | PB |
| 100 ME:PersonalName | 0 | $a Personal name | Lewis, C. S. (Clive Staples) |
| 245 Title | 14 | $a Title | The magician's nephew. |
| 260 PublicationInfo | | $a Place of publication, dist. | New York : |
| | | $b Name of publisher, dist, etc | Harper Trophy Publishers, |
| | | $c Date of publication, dist, etc | 1983. |
| 300 Physical Desc | | $a Extent | 221 p. : 18 cm. |
| | | $c Dimensions | 18 cm. |
| 440 Series Title | 0 | $a Title | Chronicles of Narnia |
| 500 General Note | __ | $a General note | Fiction--Series. |
| 520 Summary | __ | $a Summary, etc. note | When Digory and Polly try to return the wicked witch Jadis to her own world, the magic gets mixed up and they all land in Narnia where they witness Aslan blessing the animals with human speech. |
| 541 Acq Source Note | | $d Date of acquisition | 1996/10/29. |
| 650 Subj:Topic | 0 | $a Topical term | Lewis, Clive Staples, 1898-1963--works. |
| 650 Subj:Topic | __ | $a Topical term | Fantasy. |
| 852 Holdings | __ | $a Location | IN |
| | | $c Shelving location | 20081215133511.0n |
| | | $f Coded location qualifier | 12 |
| | | $g Non-coded location qualifier | 15 |
| | | $h Classification part | PB L673n #1 c.2 |
| | | $i Item part | L673n/#1/c.2 |
| | | $k Call prefix | Paperback |
| | | $o | 111633 |
| | | $p Barcode | 12898 |
| | | $r | 1 |
| | | $t Copy number | 2 |
| | | $u | 5 |
| | | $v | 0 |
| | | $w | 12 |
| | | $5 | Y |
| | | $6 Linkage | 20140625 |
| | | $9 Cost | $5.00 |
| | | $a Location | CAA |
| 856 ElectronicLocat | 4 | $3 Materials specified | Cover image |
| | | $u Uniform Resource Identifier | https://covers.openlibrary.org/b/id/52092-M.jpg |
| 856 ElectronicLocat | 4 | $3 Materials specified | Author photo |
| | | $u Uniform Resource Identifier | https://covers.openlibrary.org/a/olid/OL31574A-M.jpg |