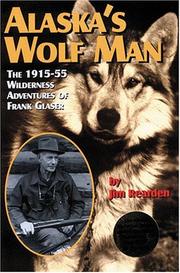 979.804 R288a 2012
Alaska's wolfman: the 1915-1955 wilderness adventures of Frank Glaser
Missoula, MT : Pictorial Histories Publishing Company, Inc, 1998.
330 p. : illus. : 22 cm.
Between 1915 and 1955 adventure-seeking Frank Glaser, a latter-day Far North Mountain Man, trekked across wilderness Alaska on foot, by wolf-dog team, and eventually, by airplane. In his career he was a market hunter, trapper, roadhouse owner, professional dog team musher, and federal predator agent, A naturalist at heart, he learned from personal observation the life secrets of moose, caribou, fozes, wolverines, mountain sheep, grizzly bears, and wolves- especially wolves.
Available
Regular
1 copy available at Collegedale Academy
| | |
| --- | --- |
| ISBN: | |
| Dewey Class No: | 979.804/R288a/2012 |
| Author: | |
| Title: | Alaska's wolfman: the 1915-1955 wilderness adventures of Frank Glaser. |
| Publisher: | Missoula, MT : Pictorial Histories Publishing Company, Inc, 1998. |
| Physical: | 330 p. : illus. : 22 cm. |
| Summary: | Between 1915 and 1955 adventure-seeking Frank Glaser, a latter-day Far North Mountain Man, trekked across wilderness Alaska on foot, by wolf-dog team, and eventually, by airplane. In his career he was a market hunter, trapper, roadhouse owner, professional dog team musher, and federal predator agent, A naturalist at heart, he learned from personal observation the life secrets of moose, caribou, fozes, wolverines, mountain sheep, grizzly bears, and wolves- especially wolves. |
| Subject: | GLASER, FRANK, 1889-1974--Homes and haunts--Alaska. |
| Subject: | |
| Subject: | |
| Subject: | |
| Link: | |
| Field | Ind | Subfield | Data |
| --- | --- | --- | --- |
| 001 Control No | | | 9249 |
| 005 LastTransaction | | | 20180707180342.0 |
| 008 Data Elements | | | 120504 |
| 020 ISBN | __ | $a ISBN | 978-1-57510-047-0 |
| 035 System Ctrl No | | $a System control number | 12386 |
| 082 Dewey Class No | | $a Classification number | 979.804/R288a/2012 |
| 100 ME:PersonalName | 1_ | $a Personal name | Rearden, Jim. |
| 245 Title | 10 | $a Title | Alaska's wolfman: the 1915-1955 wilderness adventures of Frank Glaser. |
| 260 PublicationInfo | __ | $a Place of publication, dist. | Missoula, MT : |
| | | $b Name of publisher, dist, etc | Pictorial Histories Publishing Company, Inc, |
| | | $c Date of publication, dist, etc | 1998. |
| 300 Physical Desc | __ | $a Extent | 330 p. : illus. : 22 cm. |
| 520 Summary | __ | $a Summary, etc. note | Between 1915 and 1955 adventure-seeking Frank Glaser, a latter-day Far North Mountain Man, trekked across wilderness Alaska on foot, by wolf-dog team, and eventually, by airplane. In his career he was a market hunter, trapper, roadhouse owner, professional dog team musher, and federal predator agent, A naturalist at heart, he learned from personal observation the life secrets of moose, caribou, fozes, wolverines, mountain sheep, grizzly bears, and wolves- especially wolves. |
| 541 Acq Source Note | __ | $d Date of acquisition | 2012/05/04. |
| 600 Subj:Name | 1_ | $a Personal name | GLASER, FRANK, 1889-1974--Homes and haunts--Alaska. |
| 650 Subj:Topic | __ | $a Topical term | Frontier and pioneer life--Alaska |
| 650 Subj:Topic | __ | $a Topical term | Adventure and adventurers--Alaska--Biography |
| 650 Subj:Topic | __ | $a Topical term | Alaska--Description and travel. |
| 852 Holdings | __ | $a Location | IN |
| | | $b Sublocation or collection | Main |
| | | $c Shelving location | 20120504150213.0n |
| | | $h Classification part | 979.804 R288a 2012 |
| | | $i Item part | R288a/2012 |
| | | $k Call prefix | General |
| | | $p Barcode | 18742 |
| | | $t Copy number | 1 |
| | | $5 | Y |
| | | $6 Linkage | 20140625 |
| | | $9 Cost | $18.00 |
| | | $a Location | CAA |
| 856 ElectronicLocat | 4 | $3 Materials specified | Cover image |
| | | $u Uniform Resource Identifier | https://covers.openlibrary.org/b/id/828137-M.jpg |