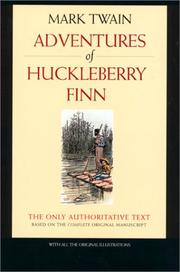 813.4 T969h c.3 2010
The adventures of Huckleberry Finn
Berkeley, CA : University of California Press, 2001.
561 p. : illus. : 21 cm.
Tells of his voyage down the Mississippi with a runaway slave named Jim. As the two journey downstream on a raft, Huck's vivid descriptions capture the sights, smells, sounds, and rhythms of life on the great river. As they encounter traveling actors, con men, lynch mobs, thieves, and Southern gentility, his shrewd comments reveal the dark side of human nature. By the end of the story, Huck has learned about the dignity and worth of human life and Twain has exposed the moral blindness of the "respectable" slave-holding society in which he lives.
Available
Regular
1 copy available at Collegedale Academy
| | |
| --- | --- |
| ISBN: | |
| LC Call No: | PS1305.A2 F5 |
| Dewey Class No: | 813.4/T969h/c.3/2010 |
| Author: | |
| Title: | |
| Publisher: | Berkeley, CA : University of California Press, 2001. |
| Physical: | 561 p. : illus. : 21 cm. |
| Notes: | Includes bibliographical references. |
| Summary: | Tells of his voyage down the Mississippi with a runaway slave named Jim. As the two journey downstream on a raft, Huck's vivid descriptions capture the sights, smells, sounds, and rhythms of life on the great river. As they encounter traveling actors, con men, lynch mobs, thieves, and Southern gentility, his shrewd comments reveal the dark side of human nature. By the end of the story, Huck has learned about the dignity and worth of human life and Twain has exposed the moral blindness of the "respectable" slave-holding society in which he lives. |
| Subject: | |
| Subject: | |
| Subject: | |
| Subject: | |
| Subject: | |
| Link: | |
| Link: | |
| Field | Ind | Subfield | Data |
| --- | --- | --- | --- |
| 001 Control No | | | 8257 |
| 005 LastTransaction | | | 20141013151814.0 |
| 008 Data Elements | | | 101111 |
| 020 ISBN | __ | $a ISBN | 978-0-520-22838-2 |
| 035 System Ctrl No | | $a System control number | 11357 |
| 050 LC Call No | __ | $a Classification number | PS1305.A2 F5 |
| 082 Dewey Class No | | $a Classification number | 813.4/T969h/c.3/2010 |
| 100 ME:PersonalName | 1_ | $a Personal name | Twain, Mark. |
| 245 Title | 14 | $a Title | The adventures of Huckleberry Finn. |
| 260 PublicationInfo | __ | $a Place of publication, dist. | Berkeley, CA : |
| | | $b Name of publisher, dist, etc | University of California Press, |
| | | $c Date of publication, dist, etc | 2001. |
| 300 Physical Desc | __ | $a Extent | 561 p. : illus. : 21 cm. |
| 500 General Note | __ | $a General note | Includes bibliographical references. |
| 520 Summary | __ | $a Summary, etc. note | Tells of his voyage down the Mississippi with a runaway slave named Jim. As the two journey downstream on a raft, Huck's vivid descriptions capture the sights, smells, sounds, and rhythms of life on the great river. As they encounter traveling actors, con men, lynch mobs, thieves, and Southern gentility, his shrewd comments reveal the dark side of human nature. By the end of the story, Huck has learned about the dignity and worth of human life and Twain has exposed the moral blindness of the "respectable" slave-holding society in which he lives. |
| 541 Acq Source Note | __ | $d Date of acquisition | 2010/11/11. |
| 650 Subj:Topic | __ | $a Topical term | Finn, Huckleberry (Ficticious character)--Fiction |
| 650 Subj:Topic | __ | $a Topical term | Mississippi River--Fiction |
| 650 Subj:Topic | __ | $a Topical term | Fugitive slaves--Fiction |
| 650 Subj:Topic | __ | $a Topical term | Male friendship--Fiction |
| 650 Subj:Topic | __ | $a Topical term | Missouri--Fiction. |
| 852 Holdings | __ | $a Location | IN |
| | | $b Sublocation or collection | Main |
| | | $c Shelving location | 20101111161200.0u |
| | | $f Coded location qualifier | 1 |
| | | $g Non-coded location qualifier | 2 |
| | | $h Classification part | 813.4 T969h c.3 2010 |
| | | $i Item part | T969h/c.3/2010 |
| | | $k Call prefix | General |
| | | $o | 111201 |
| | | $p Barcode | 17618 |
| | | $t Copy number | 3 |
| | | $w | 1 |
| | | $5 | Y |
| | | $6 Linkage | 20140625 |
| | | $9 Cost | $20.00 |
| | | $a Location | CAA |
| 856 ElectronicLocat | 4 | $3 Materials specified | Cover image |
| | | $u Uniform Resource Identifier | https://covers.openlibrary.org/b/id/327009-M.jpg |
| 856 ElectronicLocat | 4 | $3 Materials specified | Author photo |
| | | $u Uniform Resource Identifier | https://covers.openlibrary.org/a/olid/OL18319A-M.jpg |