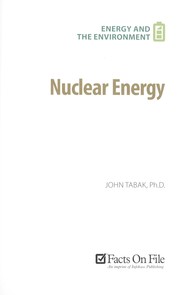 621.48 T112ne 2010
Nuclear energy
New York : Facts on file, inc, 2009.
206 p. : illus.; 24 cm.
An objective discussion of commercial nuclear power, a hotly debated issue of worldwide significance for many decades and one fo the most controversial power-generation technologies. The book covers not only the physics and technology of energy production, reactor design, and nuclear safety but also the relationship between commercial nuclear power and disposal. The volume includes information on: the business of electricity production; nuclear energy and national policy; nuclear reactor designs; the physics of nuclear fission; a prehistory of nuclear power; reactor fuel; reactor safety; spent fuel.
Available
Regular
1 copy available at Collegedale Academy
| | |
| --- | --- |
| ISBN: | |
| LC Call No: | QC792.T33 |
| Dewey Class No: | 621.48/T112ne/2010 |
| Author: | |
| Title: | |
| Publisher: | New York : Facts on file, inc, 2009. |
| Physical: | 206 p. : illus.; 24 cm. |
| Series: | |
| Notes: | Includes bibliographical references and index. |
| Summary: | An objective discussion of commercial nuclear power, a hotly debated issue of worldwide significance for many decades and one fo the most controversial power-generation technologies. The book covers not only the physics and technology of energy production, reactor design, and nuclear safety but also the relationship between commercial nuclear power and disposal. The volume includes information on: the business of electricity production; nuclear energy and national policy; nuclear reactor designs; the physics of nuclear fission; a prehistory of nuclear power; reactor fuel; reactor safety; spent fuel. |
| Subject: | |
| Subject: | |
| Link: | |
| Field | Ind | Subfield | Data |
| --- | --- | --- | --- |
| 001 Control No | | | 7969 |
| 005 LastTransaction | | | 20180917120839.0 |
| 008 Data Elements | | | 100121 |
| 020 ISBN | __ | $a ISBN | 978-0-8160-7085-5 |
| 035 System Ctrl No | | $a System control number | 11033 |
| 050 LC Call No | __ | $a Classification number | QC792.T33 |
| 082 Dewey Class No | | $a Classification number | 621.48/T112ne/2010 |
| 100 ME:PersonalName | 1_ | $a Personal name | Tabak, John. |
| 245 Title | 10 | $a Title | Nuclear energy. |
| 260 PublicationInfo | __ | $a Place of publication, dist. | New York : |
| | | $b Name of publisher, dist, etc | Facts on file, inc, |
| | | $c Date of publication, dist, etc | 2009. |
| 300 Physical Desc | __ | $a Extent | 206 p. : illus.; 24 cm. |
| 440 Series Title | _0 | $a Title | Energy and the environment |
| 500 General Note | __ | $a General note | Includes bibliographical references and index. |
| 520 Summary | __ | $a Summary, etc. note | An objective discussion of commercial nuclear power, a hotly debated issue of worldwide significance for many decades and one fo the most controversial power-generation technologies. The book covers not only the physics and technology of energy production, reactor design, and nuclear safety but also the relationship between commercial nuclear power and disposal. The volume includes information on: the business of electricity production; nuclear energy and national policy; nuclear reactor designs; the physics of nuclear fission; a prehistory of nuclear power; reactor fuel; reactor safety; spent fuel. |
| 541 Acq Source Note | __ | $d Date of acquisition | 2010/01/21. |
| 650 Subj:Topic | __ | $a Topical term | Nuclear energy |
| 650 Subj:Topic | __ | $a Topical term | Power sources. |
| 852 Holdings | __ | $a Location | IN |
| | | $b Sublocation or collection | Main |
| | | $c Shelving location | 20100121093057.0n |
| | | $h Classification part | 621.48 T112ne 2010 |
| | | $i Item part | T112ne/2010 |
| | | $k Call prefix | General |
| | | $p Barcode | 17280 |
| | | $t Copy number | 1 |
| | | $5 | Y |
| | | $6 Linkage | 20140625 |
| | | $9 Cost | $35.00 |
| | | $a Location | CAA |
| 856 ElectronicLocat | 4 | $3 Materials specified | Cover image |
| | | $u Uniform Resource Identifier | https://covers.openlibrary.org/b/id/7958808-M.jpg |