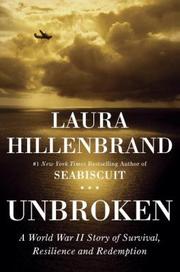 940.54 H651u 2014
Unbroken: a World War II story of survival, resilience, and redemption
New York : Random House, 2010.
473 p. : illus. : 24 cm.
On a May afternoon in 1943, an Army Air Forces bomber crashed into the Pacific Ocean and disappeared, leaving only a spray of debris and a slick of oil, gasoline, and blood. Then, on the ocean surface, a face appeared. It was that of a young lieutenant, the plane's bombardier, who was struggling to a life raft and pulling himself aboard. So began one of the most extraordinary odysseys of the Second World War. The lieutenant's name was Louis Zamperini.
Available
Regular
1 copy available at Collegedale Academy
| | |
| --- | --- |
| ISBN: | |
| LC Call No: | D805.J3Z364 |
| Dewey Class No: | 92/Z26hi/2011 |
| Author: | |
| Title: | Unbroken: a World War II story of survival, resilience, and redemption. |
| Publisher: | New York : Random House, 2010. |
| Physical: | 473 p. : illus. : 24 cm. |
| Notes: | Includes bibliographical references and index. |
| Summary: | On a May afternoon in 1943, an Army Air Forces bomber crashed into the Pacific Ocean and disappeared, leaving only a spray of debris and a slick of oil, gasoline, and blood. Then, on the ocean surface, a face appeared. It was that of a young lieutenant, the plane's bombardier, who was struggling to a life raft and pulling himself aboard. So began one of the most extraordinary odysseys of the Second World War. The lieutenant's name was Louis Zamperini. |
| Subject: | ZAMPERINI, LOUIS, 1917- |
| Subject: | |
| Subject: | |
| Subject: | |
| Subject: | |
| Subject: | |
| Link: | |
| Link: | |
| Field | Ind | Subfield | Data |
| --- | --- | --- | --- |
| 001 Control No | | | 15275 |
| 005 LastTransaction | | | 20170830132357.0 |
| 008 Data Elements | | | 110919 |
| 020 ISBN | __ | $a ISBN | 978-1-40006416-8 |
| 035 System Ctrl No | | $a System control number | 11964 |
| 035 System Ctrl No | | $a System control number | 8840 |
| 050 LC Call No | __ | $a Classification number | D805.J3Z364 |
| 082 Dewey Class No | | $a Classification number | 92/Z26hi/2011 |
| 100 ME:PersonalName | 1_ | $a Personal name | Hillenbrand, Laura. |
| 245 Title | 10 | $a Title | Unbroken: a World War II story of survival, resilience, and redemption. |
| 260 PublicationInfo | __ | $a Place of publication, dist. | New York : |
| | | $b Name of publisher, dist, etc | Random House, |
| | | $c Date of publication, dist, etc | 2010. |
| 300 Physical Desc | __ | $a Extent | 473 p. : illus. : 24 cm. |
| 500 General Note | __ | $a General note | Includes bibliographical references and index. |
| 505 ContentsNote | | $a Formatted contents note | Biography. |
| 520 Summary | __ | $a Summary, etc. note | On a May afternoon in 1943, an Army Air Forces bomber crashed into the Pacific Ocean and disappeared, leaving only a spray of debris and a slick of oil, gasoline, and blood. Then, on the ocean surface, a face appeared. It was that of a young lieutenant, the plane's bombardier, who was struggling to a life raft and pulling himself aboard. So began one of the most extraordinary odysseys of the Second World War. The lieutenant's name was Louis Zamperini. |
| 541 Acq Source Note | __ | $d Date of acquisition | 2011/09/19. |
| 600 Subj:Name | 1_ | $a Personal name | ZAMPERINI, LOUIS, 1917- |
| 650 Subj:Topic | __ | $a Topical term | World War, 1939-1945--Prisoners and prisons, Japanese |
| 650 Subj:Topic | __ | $a Topical term | Prisoners of war -- United States -- Biography |
| 650 Subj:Topic | __ | $a Topical term | Prisoners of war -- Japan -- Biography |
| 650 Subj:Topic | __ | $a Topical term | World War, 1939-1945 -- Aerial operations, American |
| 650 Subj:Topic | __ | $a Topical term | World War, 1939-1945 -- Campaigns -- Pacific Area. |
| 852 Holdings | | $a Location | CAA |
| | | $p Barcode | 21884 |
| | | $9 Cost | $28.00 |
| | | $h Classification part | 940.54 H651u 2014 |
| 856 ElectronicLocat | 4 | $3 Materials specified | Cover image |
| | | $u Uniform Resource Identifier | https://covers.openlibrary.org/b/id/6668103-M.jpg |
| 856 ElectronicLocat | 4 | $3 Materials specified | Author photo |
| | | $u Uniform Resource Identifier | https://covers.openlibrary.org/a/olid/OL1480103A-M.jpg |