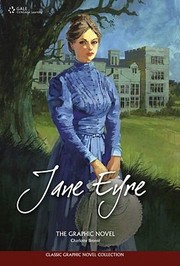 823.8 B869j GRAPHIC 2011
Jane Eyre: the graphic novel
Detroit, MI : Gale Cengage Learning, 2010.
144 p. : illus. : 26 cm.
The story of an orphan girl, raised by her wealthy but cruel aunt in nineteenth-century England. This vibrantly illustrated verison of Bronte's dramatic story chronicles Jane's hardships and triumphs as she grows from a student at Lowood school into a young woman.
Available
Regular
1 copy available at Collegedale Academy
| | |
| --- | --- |
| ISBN: | |
| Dewey Class No: | 823.8/B869j/GRAPHIC/2011 |
| Author: | |
| Title: | |
| Publisher: | Detroit, MI : Gale Cengage Learning, 2010. |
| Physical: | 144 p. : illus. : 26 cm. |
| Series: | |
| Summary: | The story of an orphan girl, raised by her wealthy but cruel aunt in nineteenth-century England. This vibrantly illustrated verison of Bronte's dramatic story chronicles Jane's hardships and triumphs as she grows from a student at Lowood school into a young woman. |
| Subject: | |
| Subject: | England -- Social life and customs -- 19th century -- Fiction |
| Subject: | |
| AE:PersName: | |
| Link: | |
| Field | Ind | Subfield | Data |
| --- | --- | --- | --- |
| 001 Control No | | | 8574 |
| 005 LastTransaction | | | 20180901055337.0 |
| 008 Data Elements | | | 110406 |
| 020 ISBN | __ | $a ISBN | 978-1-42050375-3 |
| 035 System Ctrl No | | $a System control number | 11689 |
| 082 Dewey Class No | | $a Classification number | 823.8/B869j/GRAPHIC/2011 |
| 100 ME:PersonalName | 1_ | $a Personal name | Bronte, Charlotte. |
| 245 Title | 10 | $a Title | Jane Eyre: the graphic novel. |
| 260 PublicationInfo | __ | $a Place of publication, dist. | Detroit, MI : |
| | | $b Name of publisher, dist, etc | Gale Cengage Learning, |
| | | $c Date of publication, dist, etc | 2010. |
| 300 Physical Desc | __ | $a Extent | 144 p. : illus. : 26 cm. |
| 440 Series Title | _0 | $a Title | Classic graphic novel collection |
| 505 ContentsNote | | $a Formatted contents note | Graphic novel. |
| 520 Summary | __ | $a Summary, etc. note | The story of an orphan girl, raised by her wealthy but cruel aunt in nineteenth-century England. This vibrantly illustrated verison of Bronte's dramatic story chronicles Jane's hardships and triumphs as she grows from a student at Lowood school into a young woman. |
| 541 Acq Source Note | __ | $d Date of acquisition | 2011/04/06. |
| 650 Subj:Topic | __ | $a Topical term | Governesses -- England -- Fiction |
| 650 Subj:Topic | __ | $a Topical term | England -- Social life and customs -- 19th century -- Fiction |
| 650 Subj:Topic | __ | $a Topical term | Graphic novels. |
| 700 AE:PersName | 10 | $a Personal name | Corzine, Amy. |
| 852 Holdings | __ | $a Location | IN |
| | | $b Sublocation or collection | Main |
| | | $c Shelving location | 20121022140741.0u |
| | | $g Non-coded location qualifier | 1 |
| | | $h Classification part | 823.8 B869j GRAPHIC 2011 |
| | | $i Item part | B869j/GRAPHIC/2011 |
| | | $k Call prefix | General |
| | | $o | 111246 |
| | | $p Barcode | 17963 |
| | | $t Copy number | 1 |
| | | $5 | Y |
| | | $6 Linkage | 20140625 |
| | | $9 Cost | $27.00 |
| | | $a Location | CAA |
| 856 ElectronicLocat | 4 | $3 Materials specified | Cover image |
| | | $u Uniform Resource Identifier | https://covers.openlibrary.org/b/id/7567110-M.jpg |