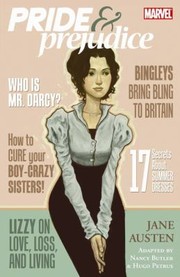 823.7 A933pr GRAPHIC 2012
Pride and prejudice
New York : Marvel Worldwide, Inc, 2010.
N.p. : illus. : 22 cm.
Graphic adaptation of the whimsical tale of Lizzy Bennet and her loveable-if-eccentric family, as they navigate through tricky British social circles. Will Lizzy's father manage to marry off her five daughters, despite his wife's incessant nagging? An will Lizzy's beautiful sister Jane marry the handsome, wealth Mr. Bingley? Or will his brooding friend Mr. Darcy stand between their happiness?.
Available
Regular
1 copy available at Collegedale Academy
| | |
| --- | --- |
| ISBN: | |
| Dewey Class No: | 823.7/A933pr/GRAPHIC/2012 |
| Author: | |
| Title: | |
| Publisher: | New York : Marvel Worldwide, Inc, 2010. |
| Physical: | N.p. : illus. : 22 cm. |
| Summary: | Graphic adaptation of the whimsical tale of Lizzy Bennet and her loveable-if-eccentric family, as they navigate through tricky British social circles. Will Lizzy's father manage to marry off her five daughters, despite his wife's incessant nagging? An will Lizzy's beautiful sister Jane marry the handsome, wealth Mr. Bingley? Or will his brooding friend Mr. Darcy stand between their happiness?. |
| Subject: | |
| Subject: | |
| Subject: | |
| Subject: | |
| Subject: | |
| Subject: | |
| AE:PersName: | |
| AE:PersName: | |
| Link: | |
| Field | Ind | Subfield | Data |
| --- | --- | --- | --- |
| 001 Control No | | | 9392 |
| 005 LastTransaction | | | 20180804012746.0 |
| 008 Data Elements | | | 120823 |
| 020 ISBN | __ | $a ISBN | 978-0-7851-3916-4 |
| 035 System Ctrl No | | $a System control number | 12533 |
| 082 Dewey Class No | | $a Classification number | 823.7/A933pr/GRAPHIC/2012 |
| 100 ME:PersonalName | 1_ | $a Personal name | Austen, Jane. |
| 245 Title | 10 | $a Title | Pride and prejudice. |
| 260 PublicationInfo | __ | $a Place of publication, dist. | New York : |
| | | $b Name of publisher, dist, etc | Marvel Worldwide, Inc, |
| | | $c Date of publication, dist, etc | 2010. |
| 300 Physical Desc | __ | $a Extent | N.p. : illus. : 22 cm. |
| 505 ContentsNote | | $a Formatted contents note | Graphic novel. |
| 520 Summary | __ | $a Summary, etc. note | Graphic adaptation of the whimsical tale of Lizzy Bennet and her loveable-if-eccentric family, as they navigate through tricky British social circles. Will Lizzy's father manage to marry off her five daughters, despite his wife's incessant nagging? An will Lizzy's beautiful sister Jane marry the handsome, wealth Mr. Bingley? Or will his brooding friend Mr. Darcy stand between their happiness?. |
| 541 Acq Source Note | __ | $d Date of acquisition | 2012/08/23. |
| 650 Subj:Topic | __ | $a Topical term | England--19th century--Social life and customs--Fiction |
| 650 Subj:Topic | __ | $a Topical term | Sisters--Fiction |
| 650 Subj:Topic | __ | $a Topical term | Graphic novels |
| 650 Subj:Topic | __ | $a Topical term | Family--England--Fiction |
| 650 Subj:Topic | __ | $a Topical term | Upper Class--England--Fiction |
| 650 Subj:Topic | __ | $a Topical term | Courtship--England--Fiction. |
| 700 AE:PersName | 10 | $a Personal name | Petrus, Hugo |
| 700 AE:PersName | 10 | $a Personal name | Butler, Nancy. |
| 852 Holdings | __ | $a Location | IN |
| | | $b Sublocation or collection | Main |
| | | $c Shelving location | 20121022142602.0u |
| | | $f Coded location qualifier | 1 |
| | | $g Non-coded location qualifier | 3 |
| | | $h Classification part | 823.7 A933pr GRAPHIC 2012 |
| | | $i Item part | A933pr/GRAPHIC/2012 |
| | | $k Call prefix | General |
| | | $o | 111676 |
| | | $p Barcode | 18897 |
| | | $t Copy number | 1 |
| | | $w | 1 |
| | | $5 | Y |
| | | $6 Linkage | 20140625 |
| | | $9 Cost | $15.00 |
| | | $a Location | CAA |
| 856 ElectronicLocat | 4 | $3 Materials specified | Cover image |
| | | $u Uniform Resource Identifier | https://covers.openlibrary.org/b/id/7707114-M.jpg |