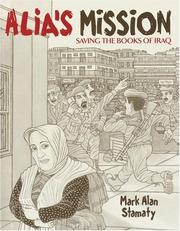 PIC S817p 2011
Alia's mission: saving the books of Iraq
New York : Alfred A. Knopf, 2004.
30 p. : illus. ; 23 cm.
The inspiring story of an Iraqi librarian's courageous fight to save books from the Basra Central Library before it was destroyed in the war. It is 2003 and Alia Muhammad Baker, the chief librarian of the Central Library in Basra, Iraq, has grown worried given the increased likelihood of war.
Available
Regular
1 copy available at Collegedale Academy
| | |
| --- | --- |
| ISBN: | |
| LC Call No: | Z720.B24S73 |
| Dewey Class No: | S783a/2008 PIC |
| Author: | |
| Title: | |
| Publisher: | New York : Alfred A. Knopf, 2004. |
| Physical: | 30 p. : illus. ; 23 cm. |
| Summary: | The inspiring story of an Iraqi librarian's courageous fight to save books from the Basra Central Library before it was destroyed in the war. It is 2003 and Alia Muhammad Baker, the chief librarian of the Central Library in Basra, Iraq, has grown worried given the increased likelihood of war. |
| Subject: | BAKER, ALIA MUHAMMED. |
| Subject: | |
| Subject: | |
| Link: | |
| Field | Ind | Subfield | Data |
| --- | --- | --- | --- |
| 001 Control No | | | 7024 |
| 005 LastTransaction | | | 20180906150022.0 |
| 008 Data Elements | | | 080207 |
| 020 ISBN | __ | $a ISBN | 978-0-375-83217-8 |
| 035 System Ctrl No | | $a System control number | 9753 |
| 050 LC Call No | __ | $a Classification number | Z720.B24S73 |
| 082 Dewey Class No | | $a Classification number | S783a/2008 |
| | | $c | PIC |
| 100 ME:PersonalName | 1_ | $a Personal name | Stamaty, Mark Alan. |
| 245 Title | 10 | $a Title | Alia's mission: saving the books of Iraq. |
| 260 PublicationInfo | __ | $a Place of publication, dist. | New York : |
| | | $b Name of publisher, dist, etc | Alfred A. Knopf, |
| | | $c Date of publication, dist, etc | 2004. |
| 300 Physical Desc | __ | $a Extent | 30 p. : illus. ; 23 cm. |
| 520 Summary | __ | $a Summary, etc. note | The inspiring story of an Iraqi librarian's courageous fight to save books from the Basra Central Library before it was destroyed in the war. It is 2003 and Alia Muhammad Baker, the chief librarian of the Central Library in Basra, Iraq, has grown worried given the increased likelihood of war. |
| 541 Acq Source Note | __ | $d Date of acquisition | 2008/02/07. |
| 600 Subj:Name | 1_ | $a Personal name | BAKER, ALIA MUHAMMED. |
| 650 Subj:Topic | __ | $a Topical term | Cartoons and comics |
| 650 Subj:Topic | __ | $a Topical term | Graphic novels. |
| 852 Holdings | __ | $a Location | IN |
| | | $b Sublocation or collection | Main |
| | | $c Shelving location | 20081215133656.0n |
| | | $h Classification part | PIC S817p 2011 |
| | | $i Item part | S783a/2008 |
| | | $k Call prefix | Picture Book |
| | | $p Barcode | 16158 |
| | | $t Copy number | 1 |
| | | $z Public note | DDCN Field: 020 |
| | | $5 | Y |
| | | $6 Linkage | 20140625 |
| | | $9 Cost | $13.00 |
| | | $a Location | CAA |
| 856 ElectronicLocat | 4 | $3 Materials specified | Cover image |
| | | $u Uniform Resource Identifier | https://covers.openlibrary.org/b/id/234134-M.jpg |